SLO Gymfest
Our CCG Team has decided to host our 26th annual event this year to keep the tradition of families coming to the beaches in our area and hosting a meet in San Luis Obispo continuing! We have all been affected by this past year, with our young athletes having to face the most trying times. We are hoping to give them all inspiration by hosting a "Covid Safe Competition" for them. A "Special Thanks" to all those helping us put this on as safely as we possibly can for these athletes.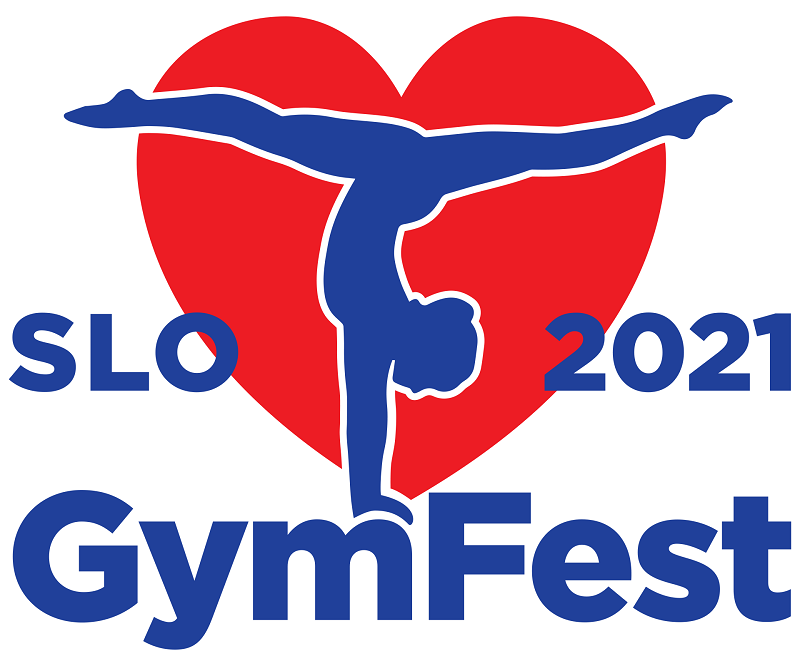 Meet Information:
March 6 & 7
Levels 2-10 Girls Compulsory, Optionals & Xcel
Location: 21 Zaca Ln. San Luis Obispo, CA 93401
Entry Fees:
| | |
| --- | --- |
| USAG Women's Comp. Levels 2-5 | $100 |
| Xcel Bronze & Silver | $100 |
| USAG Women's Optional Levels 6-10 | $115 |
| Xcel Gold, Platinum, & Diamond | $115 |
Refunds
No refund deadline. 100% refund guarantee. We will not cash checks until after the event is completed.
Credit card card processing fees cannot be refunded.
We strongly suggest mailing checks this year, so as not to incur any nonrefundable fees.
No Team Fees!
Entry fees include team awards and special gift.
Meet Format
Modified Traditional
Final Session Times:
(Posted 3/04/2021)
3/6-Saturday Sessions

Parents, please have your athlete go to the front door (Social Distance) for check-in at designated times, NO spectators will be allowed in at this time. Once all athletes & coaches are in the gym. We will then begin the spectator entrance. (See spectator entrance guidelines)

Session 1: All Athletes & Coaches will check in first at 1:00 pm and Open stretch 1:15 pm.

Optionals Level 6-10
Xcel Platinum

Session 2: All Athletes & Coaches will check in first at 5:00 pm and Open stretch 5:15 pm.

Compulsory Level 5
Compulsory Level 3

3/7 -Sunday Sessions

Parents, please have your athlete go to the front door (Social Distance) for check-in at designated times. No Spectators will be allowed in at this time. Once all athletes & coaches are in the gym. We will then begin the spectator entrance. (See spectator entrance guidelines)

Session 3: All Athletes & Coaches will check in first at 8:00 am and Open stretch 8:15 am.

Compulsory Level 2
Compulsory Level 4

Session 4: All Athletes & Coaches will check in first at 11:45 am and Open stretch 12:00 pm.

Xcel Bronze
Xcel Silver
Xcel Gold
Rotation Schedule:
Download PDF
Session #1:

Vault: CCG (11)
Uneven Bars: AKSC (12)
Beam: AKSC (5)
Thrive (3)
Floor: EXT (11)

Session #2:

Vault: CCG (15)
Uneven Bars: AKSC (4)
Thrive (3)
Beam: AKSC (10)
Floor: Excel (14)

Session #3:

Vault: AKSC (5)
CCGI (3)
Thrive (1)
CCG (3)
Uneven Bars: AKSC (11)
Beam: Excel (15)
Floor: Excel (14)

Session #4:

Vault: CCG (6)
AKSC (9)
Uneven Bars: CCG (4)
CCGI (7)
Beam: CCGI (14)
Floor: CCGI (13)
Competition Protocols:
(Posted 3/04/2021)
Athlete protocols: Only competing athletes in the session will be allowed entry.
Important: If your athlete is feeling ill, we know you may have traveled a long way to compete, however even a headache is a confirmed symptom of covid. We do not want to create a spreader event. Please be extra cautious.
Parents should plan to drop off and pick up your athlete at the specified front door for check in.
Parents will park in any open spot or on the street, please do not walk your athlete to the front door unless they are very young and need you to wait with them. Please bring your own chairs for awards. No chairs will be set up for awards.
All athletes must come dressed to compete, there will not be time or room for changing the bathrooms with hair ready to go.
Important: All athletes will be required to wear a face mask at check in, while inside at all times. The only exception will be if they need to remove it for timed warm ups or competing. It must be put back on immediately.
Masks must be worn when entering, exiting, using the restrooms, walking to the award area, etc.
Athletes may NOT share any personal items, including snacks, water, clothing, hairbrushes.
Important: All athletes need to bring their own backpack, their own water bottle with their name on it, easy on and off shoes like flip flops that can go in their bag as soon as they enter. We ask that they do not leave the gym once entered until awards, and they do not bring in cell phones, as those should not be on the floor, and they do not eat on the gym floor at any time. No gum or candy please.
Important: CCG will have chalk containers at bars and beams. Only one athlete at a time is allowed to get chalk, no exceptions. Athletes can bring in their own chalk block.
Athletes & Coaches will be distanced 6-10 feet apart during the competition and awards to the best or our ability.
Awards: All awards will be given outside as soon as the competition ends, athletes will go to the awards area and wait.
Important: We ask that everyone wear a facial covering or mask if you plan to watch the awards.
Important: In an effort to move awards along safely and minimize large gatherings, we will only be announcing the ALL Arounds for each age group and Team Banners will be awarded individually after All Arounds. All individual event medals will be given to each athlete in an envelope during the awards ceremony.
Important: No chairs will be set up for awards. Please bring your own chair if you will need to sit down.
Masks/Facial Coverings: All who enter the building must wear a mask or facial covering that is appropriate at all times when approaching the building and inside the facilities. If you are not wearing it, we will ask you to put it on properly. Even outside of CCG, in the parking lot, facial masks are required if you are outside your vehicle at all times. We will ask you to put one on if you are at awards and not wearing a facial covering. This is required by our city and county in SLO.
Snowflake Designs will have a booth set up and they have provided a nice coupon for each athlete, we will be putting them in their goodie bags as an added special treat along with a scrunchie they are giving to each gymnast! We have other goodies also inside for them! Please wear a mask at all times when in or around their booth.
No concessions will be provided. There are lots of places to eat within a few minutes drive. Please make sure your team parents/families know this. Athletes should be fed before and after the event. They cannot eat inside the gym, parents should not send them with food or ask to bring them food during the session.
Spectators entrance fee is $10.00: CCG is going to have an athlete check in list at the door, once all athletes and coaches for that session are checked in, we will then allow ONLY (1) person/ human in the door (no siblings) per athlete. Our priority is to get all the competitors, coaches, and judges in safely. VERY IMPORTANT: PLEASE bring cash, we are not taking checks or credit cards. Exact cash of $10 would be amazing and very fast.
Important: Temperature and covid symptoms check will be administered at the door. Do not attempt to enter if you have been feeling sick, near anyone in the last 3 days who is sick/with any symptoms, or exposed do NOT come to the front door or near the facility.
Important: If an athlete is not competing, no family member/friend can go in that child's place. No exceptions.
Important: Only Adults may come in, no children under the age of 17 will be allowed in as the (1) spectator. Once you are in, there is not swapping or going in and out. We ask that the spectators come in and stay in. No children due to supervision challenges.
Important: Please make sure you bring in bottled water, coffee or tea only, as no food or other beverages will be allowed. We have a water bottle filling station, you can refill your bottle if needed. Make sure your name is on it.
Important: No pets are allowed inside, only seeing eye dogs.
SLO GymFest Zoom link will be provided on the morning of March 6 by 12 pm. This will only be available on the SLO GymFest link we have sent out, not on our webpage for CCG and we will not post it. SLO GymFEST families can watch from anywhere. At this time, we may not be able to tell those on Zoom who is competing where and when. If we can make that happen we will. Please know we are doing all we can to focus on the athletes competition and hoping to get all the new tech up as best we can.
The SLO GymFest Rotation Schedule will be posted on the SLO GYMFEST link page so you can download and print if you want to track who is competing where. Athlete order will not be posted.
Scores live online: CCG is planning to have scores post live online. We are working with a new scoring program, and this may or may not prove to have challenges. We ask everyone to be patient as we work through all the new challenges we face as we host this event! We will post on the SLO GYMFEST Link where to go for live scoring.
Hotel Block:
SLO Hampton Inn
Link: Click for Hotel Booking Link
Group Name: SLO Gym Fest
Arrival Date: 05-Mar-2021 (Friday)
Departure Date: 08-Mar-2021 (Monday)
Other hotels we recommend close to our gym for you to contact if our block fills with no block rates:
The Kinney San Luis Obispo, a Tapestry by Hilton #(805) 544-8600
Madonna Inn #(805)543-3000
Best Western Plus Royal Oak Hotel #(805) 544-4410
Check out Hotels.com for great deals now for this weekend, there are some great places to stay locally.