SLO Gymfest
Central Coast Gymnastics is so excited to host our Annual 2021 SLO GymFest Compulsory Invitational this year to keep the tradition of families coming to the beaches in our area and to visit beautiful San Luis Obispo! We have all been affected by this past year, with our young athletes having to face the most trying times. We are hoping to give them all inspiration by hosting our super FUN, Mini Vacation Meet for them. A "Special Thanks" to all those helping us host this competition for these athletes. We are really looking forward to having your coaches, athletes, and families join us on October 9 & 10, 2021!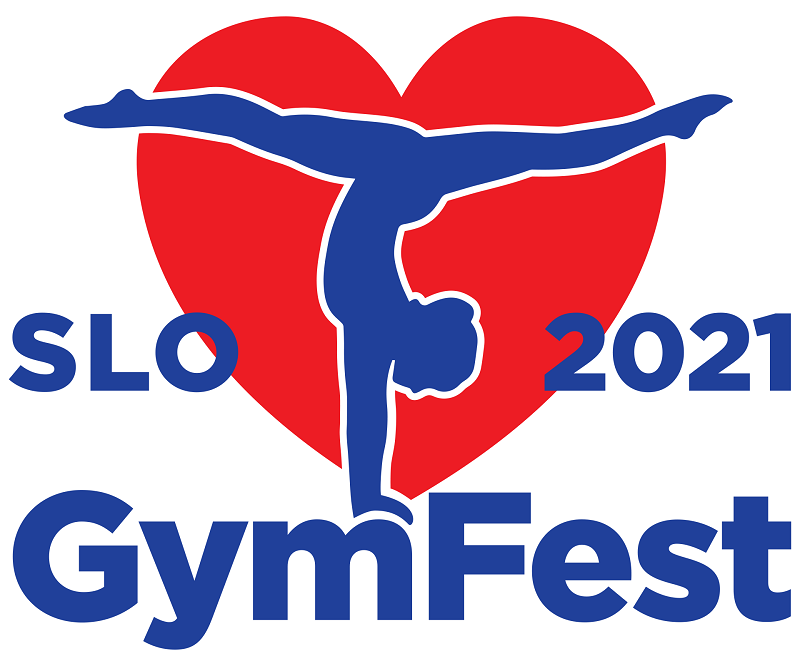 Meet Information:
October 9 & 10, 2021
Levels 2-5 Girls Compulsory
Location: 21 Zaca Ln. San Luis Obispo, CA 93401
Entry Fees:
| | |
| --- | --- |
| USAG Women's Compulsory Levels 2-5 registration paid on or before 8/31/2021 | $100 |
| USAG Women's Compulsory Levels 2-5 registration fee paid on or after 9/1/2021 | $110 |
Refunds
No refunds after September 24, 2021
Credit card card processing fees cannot be refunded.
We strongly suggest mailing checks early to hold your team space this year. Deposits due by 7/1/2021
No Team Fees!
Entry fees include team awards and special gift.
Meet Format
Modified Traditional
Session Times:
DOWNLOAD SESSION SUMMARY (as of 9/21/2021)
Scores live online: CCG is planning to have scores post online.
Teams Attending:
CCG (SLO)
Clovis Academy of Gymnastics (Clovis)
Excel Gymnastics (Clovis)
Extreme Gymnastics (Loomis)
TEC Gymnastics (Madera)
Vandenberg Air Force Base VAFB (Lompoc)
Admission: ( Cash Only Please )
| | |
| --- | --- |
| Children ages 5 and under | FREE |
| Children ages 6-17 | $5.00 each |
| Adults ages 18 & up | $10.00 each |
| Seniors 65 & up | $8.00 each |

TEC was the FIRST TEAM to pay their teams entry fees to the SLO GYMFEST! They have won TWO $25 gift cards to STARBUCKS-One for each coach!
Covid 19 UPDATES FOR SLO GYMFEST Athletes/Spectators/Coaches:
SLO County has a mask mandate for all indoor businesses. We are going to require all those who enter to wear a mask, including athletes. The athletes will be able to remove their mask when warming up and competing, and will need to place it back on their face fully when not on equipment/waiting their turn.
We are not limiting the amount of spectators for this event. However, we will have limited seating available for about 150 people max.
If your athlete has been exposed to anyone with covid 19 please have them tested before they attend the competition. If they have any symptoms, feel ill in any way, they should not attend the competition.
You should send us a negative test result if you have an exposed child or a sick child prior to the competition.
Full refunds will be given when you submit a positive covid test within a week of the meet. Please email the positive covid test to Mimi@iflipforCCG.com prior to 10/9/2021.
Coaches, please make sure you are all healthy upon arrival to the competition, and to let us know if you have any athletes that are scratching due to having a positive covid test.
All judges will be masked throughout the entire competition. Please do your best to social distance when you can.
Host Hotel:
Check out Hotels.com for rooms in San Luis Obispo area.
Great areas to stay are Morro Bay, Cayucus, Arroyo Grande, and Grover Beach that are off the beaten path and not too far from San Luis Obispo.
North County San Luis Obispo cities with hotels:
SLO GYMFEST VENDORS:
Be ready to check out their amazing booth are our meet. Get that special gymnastics a celebatory leotard, tee, hoodie and so many more fun items!
A little bit about photographer Paul Marchbanks A lifelong love of photography has in recent years aligned with my daughters' deepening passion for gymnastics, giving rise to the types of photos viewable here. Please explore my passion on my website. We look forward to meeting you and your athlete at the SLO GYMFEST!
Click to view Flyer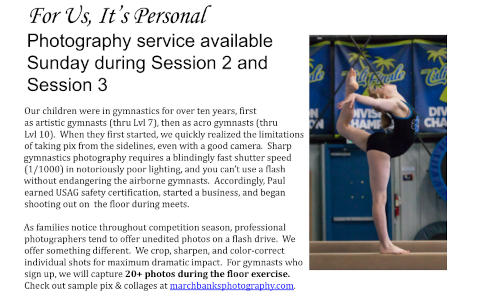 CCG Girls Optional Team Fundraising Concession Stand
CCG's girls optional gymnastics team is hosting the SLO GYMFEST Concession stand as a fundraising event to help them with their expenses for their 2022 season! Take a moment to purchase a few items from these hard working families and athletes! 100% of the profits they rasie go directly to these families. We appreciate all your support in advance of these amazing athletes! THANK YOU
SLO GYMFEST Bonfire at Oceano Dunes: (Saturday night at 6:00 - 9:00 pm)
Download Flyer
CCG will host a family fun Bonfire for all SLO GF athletes and coaches attending the event with their families. No cost to attend, we will provide all the fixings for Smores and tons of FUN for everyone attending the bonfire at Oceano Dunes Beach (SLO GF athletes, coaches, and families only!) Not for the public.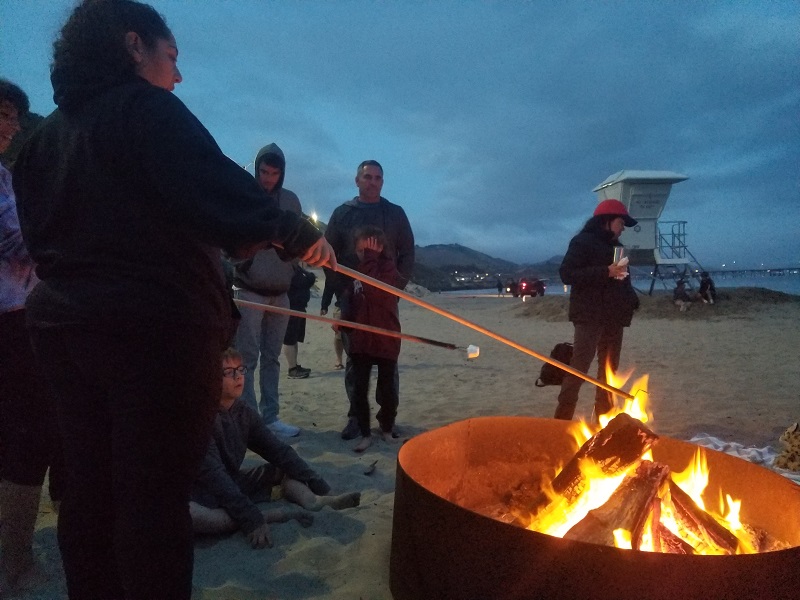 Turn by Old Juan's Cantina. It's just down the street. Bonfire will begin at 6:00 pm, look for a sign at the end of Pier Ave. on the right by the public parking lot & restroom, just walk North from the parking lot for the bonfire. Do not drive onto the beach, park on the street or in the public parking lot.
You should bring chairs, blankets, beach fun toys & games, and jackets to enjoy an amazing night at the beach under the stars!
You can bring your own hot dogs, buns, and fixings to roast as well.
You are welcome to contact the Oceano Dunes. Just call (800)773-7170.
Coaches & Judges Hospitality Room Sponsors:
CCG can't thank our Local Business Sponsors enough for all their support of our events! We are so blessed to have the most amazing local businesses. If you have time, please go eat at one or both of these while you visit our AREA! You can order on line and pick up too! Let them know you are here for the meet!